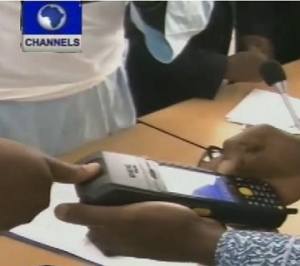 The national chairman of Inter-Party Advisory Council (IPAC), Dr Yunusa Tanko, has asked the Independent National Electoral Commission (INEC) to provide card readers to all polling units before the February polls.
At a press conference in Abuja on Saturday Mr Tanko said that the provision of Permanent Voters Cards (PVC) and card readers would prevent fraud and encourage voters to participate in the elections.
He also encourage INEC to do all it could to enable Internally Displaced Persons vote during the polls.
"No PVC, no election. No card reader, no election. This is the crux of the matter of our agreement in the last meeting we held with the INEC.
"The Inter-Party Advisory Council, a conglomerate of all political parties in Nigeria is saying that the time for rigging is over," he said.
It is less than 35 days to the general elections that Nigerians have been looking forward to.
The group gathered to educate the masses on elections ethics. The members marched round Abuja, distributing elections code of conduct produced by the INEC to citizens.
During the press briefing, which was held before the march, the council spoke on the need for the electoral commission to ensure that the card readers would be enough during the polls.
The Head of ICT with the INEC, Mr Chidi Nwanfor, had in an earlier forum with civil society organisations promised the possibility of using a card reader technology during the February polls.
"As we talk now, if  you go to our stores you will find these card readers there, waiting to be used for the elections," he said.
The INEC had insisted that voters without the PVC would not be allowed to vote.
Already, politicians have begun intensive campaign around Nigeria, seeking voters support in the election that will hold in February to determine who manages Nigeria's affairs in the next four years.