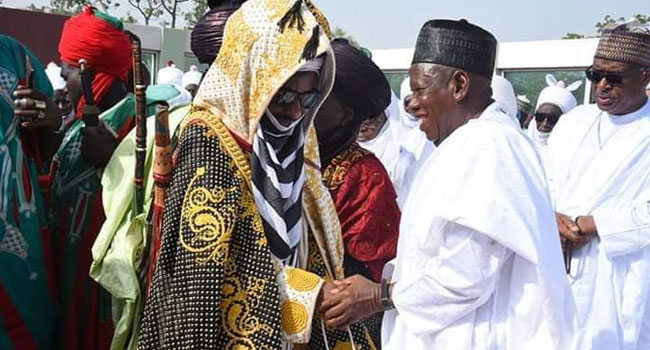 Kano State Governor, Abdullahi Ganduje, and the Emir of Kano, Muhammad Sanusi II, were seen exchanging pleasantries on Tuesday.
Both leaders shook hands when they met at the Eid praying ground in the ancient town of Kano for the Eid el-Fitr celebrations after the conclusion of Ramadan fast.
Governor Ganduje who was dressed in a white agbada with a black cap put on a bright smile as he greeted the Emir who was also dressed in colourful traditional attire.
---
READ ALSO
Ganduje Signs Bill Seeking Creation Of Four New Emirates In Kano
Court Orders Ganduje To Stop Creation Of New Emirates In Kano
---
The governor was accompanied to the praying ground by some top government officials in the state as many Muslims also attended the prayer session.
Both leaders exchanged pleasantries in the public space for the first time since the creation of additional emirates in Kano.
On May 8, Governor Ganduje signed into law the bill seeking the establishment of four additional first-class emirates in Kano.
His assent came shortly after members of the Kano State House of Assembly passed the bill for the creation of new Emirates in Rano, Gaya, Karaya, and Bichi.
Before the passage, the lawmakers approved the amendment of the Local Government and Chieftaincy Affairs Law of the state.
This sparked mixed reactions, but the governor denied claims that the creation of additional Emirates was to settle personal scores with anyone.
Instead, he explained that they were created to make the traditional institution in the state more effective and went further to declare his respect for the Emir of Kano.
Despite this position, Ganduje insisted that the traditional ruler was answerable to his Local Government Chairman, as enshrined in the Constitution.
Two days after the bill became a law, a State High Court in Kano ordered Governor Ganduje and five others to maintain status quo pending the hearing and determination of a motion on notice filed by Mr Rabiu Gwarzo.
Justice Nasiru Saminu in a ruling delivered on May 10 ordered the respondents to halt the process in the creation of the new Emirates.
A day after the ruling, Governor Ganduje presented letters of appointment to four new first-class emirs during a ceremony held at the state capital.
They are Emir of Bichi, Aminu Ado Bayero who is the son of late Emir of Kano, Ado Bayero; Emir of Gaya, Ibrahim Abulkadir; Emir of Rano, Tafida Abubakar; and Emir of Karaye, Abubakar Ibrahim II.
The governor was confident that the creation of the new Emirates would make the traditional system in Kano more efficient.