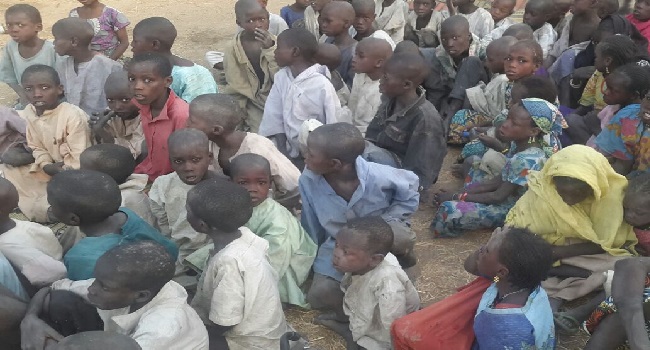 The Swedish Government has donated facilities worth $56 million to humanitarian workers in northern Nigeria's Borno State.
A cargo containing the items, which was the first batch of the facilities, arrived in Maiduguri on Monday and was received by Ambassador Inger Ultvedt at the Airport.
The cargo contains items for construction of movable hubs for humanitarian workers operating in camps around Maiduguri and liberated towns across the state.
The hubs are meant for UN affiliated humanitarian organisations operating in Borno State.
Swedish Ambassador Ultvedt believes that situating offices, clinics and accommodation facilities for humanitarians within areas of operations would equip staff to perform more efficiently.
The facilities are costing the Sweden government a whopping $56 million, according to the ambassador.
"This consignment has come from Sweden and it is actually for working with Internally Displaced Persons (IDPs) because this consignment consists of housing unit for a hundred people, a small health clinic, kitchen and restaurants and it also comes with some generators and it's actually for both Nigerians as well as international aid workers for them to be able to work more outside Maiduguri," he told reporters.
The International Organisation for Migration (IOM), recently recognised by he UN General Assembly as a related organisation to the UN is one of the beneficiaries of the Swedish government's intervention.
The Head of IOM Sub Office in Maiduguri, Emma Khakula, believes that the facilities would offer space for coordination among the humanitarian groups and government officials.
"Office and accommodation in this newly accessible areas or rather centres for operation for humanitarian staff have really been lacking so the cargo that we see here today is the first of many shipments that would come in to ensure that we have good operational centres set up.
"Our first pilot project is going to be in Dikwa after Maiduguri and we will see the same rolled out into Bama,Gwoza and all these areas where we have pockets of displaced persons," Khakula told reporters.
The Borno State government recently bemoaned the influx of questionable humanitarian organisations in Maiduguri making little or no impacts.
The Governor of the State, Kashim Shettima, had said i was unfortunately hat a lot of people were smiling their way to the bank on the agonies of the displaced persons.
"We have over two hundred NGOs in Maiduguri alone. In fact because of the presence of these NGO that operate largely from hotels and parts of the GRA they have jerked up the prices of houses in Maiduguri.
"Hitherto a three bedroom flat in Maiduguri used to go for 250,000 Naira but now you have to cough out two to three million Naira all because of the presence of the so called NGOS," Governor Shettima stated.
A Nigerian Senate committee on the northeast humanitarian crisis is already investigating the worrisome trend.
With the latest donation for UN recognised humanitarian organisations, IDPs in liberated areas are expected to have access to more humanitarian assistance.
It will also serve as a wake up call to redundant organisations.
Different UN agencies have called for more aid for displaced persons in Nigeria's northeast, raising concerns over severe malnutrition in the region triggered by the activities of the Boko Haram terrorist group.
Aid in form of nutritious food, UNICEF said, was needed in the region, where it said over 70,000 children, nursing mothers and pregnant women risk death before the end of the year if nothing was done.