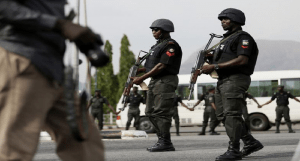 The Nigeria Police is yet to comply with the Federal High Court order, contained in an interim injunction granted in favour of the Speaker of Enugu State House of Assembly and, the 15 members of the House.
The court had on May 11, ordered the Nigerian Police to vacate Enugu State House of Assembly Complex and the order subsists, pending the determination of the suit brought by State Assembly Speaker, Eugene Odoh, on behalf of 15 members of the house.
The order also allowed the Speaker and the other 15 lawmakers to have access to the legislative complex, particularly the chambers.
The presiding Judge, Justice Dorcas Agishi, said since the matter was for mention, the parties should take a date for hearing, but Mr Okibe informed the court that it was a case of Enforcement of Fundamental Human Rights, adding that they needed a short date for expediency of motion.
Justice Agishi then adjourned the matter to May 26 and ordered that hearing notices be served on all respondents.
Mr Okibe then noted in an interview that since the respondents have failed to bring any representation or respond to the suit, should they fail to report on May 26 as adjourned, the judge would have no choice but enter into judgment which would be delivered in their favour.
However, the police were still stationed with their vehicles at the House of Assembly Complex at Independence Layout.
Efforts to speak with the Enugu State Police Public Relations Officer, Mr Ebere Amaraizu, to provide reasons for their continued stay in spite of the court order was fruitless.