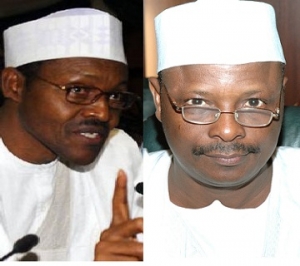 Two presidential aspirants under the All Progressives Congress (APC) have paid a consultation visit to the Kwara State Governor, Abdulfattah Ahmed, in preparation for their presidential primaries.
The aspirants are the governor of Kano State, Rabiu Kwankwaso and retired General Muhammad Buhari.
While the retired general insisted on continuing contesting for the exalted post since there is no constitutional limitation to seeking for political posts, the Kano State governor was optimistic that either consensus or primaries would produce the party's presidential candidate.
First to arrive at the Governor's lodge was the Kano State governor who was received by the host before a private discussion was held.
After nearly an hour discussion behind closed door, the presidential aspirant under the All Progressive Congress noted that the party would, at an appropriate time, discuss consensus arrangement to pick its presidential candidate.
He stressed that if the arrangement failed, then the primaries would be held anywhere in the country.
A day after Kwankwaso's visit the former military Head of State, General Buhari also paid a visit to the Kwara State Governor.
While welcoming the APC chieftain, Governor Ahmed described him as a fearless and courageous fighter who has sacrificed a lot for the unity and progress of Nigeria.
General Buhari welcomed the idea of consensus candidate, but concluded that the party had the right to decide the method of selecting the presidential candidate of the party.
He stressed that it would save the party a lot of troubles.
As the All Progressives Congress prepares to pick its presidential candidate, it is expected that either consensus arrangement or primaries will produce a good and reliable presidential candidate.