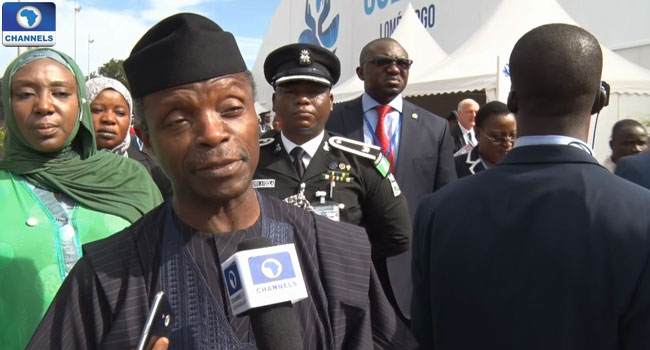 The Nigerian government has promised more support for farmers and small business owners to aid growth of their farms and businesses.
Vice President Yemi Osinbajo gave the assurance on Tuesday at a one-day economic empowerment programme organised for youths and women in Kano State.
He told the gathering that the economic recession the nation was facing was a fallout of so much dependency on foreign goods including food items.
Professor Osinbajo said that the Federal Government was working tirelessly to reverse in no distant time what he called "ugly trend, threatening the future of the nation's economy".
According to Professor Osinbajo, with the current global recession, Nigeria's economy has continued to be threatened.
He says of policy formulation is one aspect the government is exploring to support farmers and small business owners to boost the economy.
The Naira has continued to weaken against the dollar and prices of food items and other commodities are skyrocketing partly because of over reliance on imported goods.
"Let us grow what we eat. You should not import rice when we can grow rice. We should not be importing tomato puree or paste when we can manufacture it. We should not import wheat when we can grow it. We must grow what we eat. If we don't grow what we eat we will end up in trouble and that is one of the major things the president has been re-emphasising.
"From now on, we are going to make sure that we promote policies that encourage those who are growing – farmers and small scale industrialists who are processing what we grow here in Nigeria," Professor Osinbajo pointed out.
The programme was organised in conjunction with Kano State government to educate farmers and small business owners on how best they can access and utilise the Federal Government's intervention fund.
With an estimated population of over 15 million people most of whom are small, medium and micro traders, Kano State Governor, Abdullahi Ganduje, said he had so far empowered over 6,000 women and youths.
Governor Ganduje told the Vice President that preparations for the establishment of Kanawa Economic City had reached advance stage in addition with various programmes to revive the state agricultural sector.
"Your excellency, because our markets are so congested, we have succeeded in establishing a Public, Private Partnership arrangement to develop the Kanawa Economic City estimated to cost over 500 billion Naira and your excellency we will soon sign an agreement with a Dubai based construction company and by January next year we hope to begin with construction work," the Governor said.
Although Kano State government has initiated various women and youth intervention programmes, drop in revenue generated from crude oil sales has continued to pose a threat to the nation's social investment programme.
According to the Senior Special Assistant to President Muhammadu Buhari on Social Investment Programme, Mrs Maryam Uwais, "the challenges have been that there are over 58 million Nigerians who are considered extremely poor and we have a very wide disparity between the rich and the poor".
She highlighted the need to spread resources across all the different disparities, saying there were at least 28 social programmes in the past ran by the government, but lack of proper synergy between Federal and States government has been a major challenge.