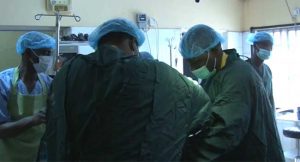 The Chief Medical Director of Obafemi Awolowo University Teaching Hospital Complex, (OAUTHC), Ile-Ife, Prof Victor Adetiloye, has disclosed that the hospital recorded 14 successful open heart surgeries in 2016.
Adetiloye, made the disclosure while chatting with some journalists in his office in Ile-Ife, Osun state.
He said that the success story of the surgery operations were achieved based on the competence of the doctors they have on ground.
The CMD added that the medical experts presently serving in the hospital are of international standard as they were trained abroad.
Adetiloye explained that the routine surgery that people travel abroad to perform have been successfully handled and recorded with much success at a  lesser cost in OAUTHC.
He appealed to Nigerians who are of the opinion that they must travel abroad before they can get solution to their health challenges that this can easily be done in OAUTHC, Ile-Ife.
In the same vein, a Cardiothoracic Surgeon, Dr Uvie Onokpoya stated that the condition of having a hole in heart which has three sections of surgery that people travel abroad to perform with over six million naira in India had been attended to by the medical experts with less than a million naira.
Onakpoya charged people who have medical challenges to always patronize the indigenous hospital, OAUTHC.
He added that people should first visit the hospital to examine the degree of their ailment whether it could be done in Ile-Ife teaching hospital, if not, such patient can seek a referral to other hospitals outside the country.
He explained that OAUTHC has modern equipment, coupled with well trained and highly skilled professional medical experts.
He said: "We would strive to do more of the open heart surgery this year, as it has been scheduled to begin very soon in OAUTHC, Ile-Ife.
"What we are doing here is to save people from financial and emotional embarrassment, wear and tear of the body for the people who travel abroad for such treatment.
"For instance people go overseas for minor surgery like anoraphy which is very common and can be successfully done here in OAUTHC without much stress with little amount."
The management eulogised the Ooni of Ife, Oba Adeyeye Ogunwusi, Sen Iyiola Omisore, Dr Themo Edmund, Dr Ramon Adedoyin and Feature Hope Foundation, based in UK, for their gesture toward the development of the hospital.
The hospital authority called on Nigerians to collaborate with the government to provide more modern equipment and to give training and retraining of medical personnel to alleviate health challenges that make people to run abroad for treatment.