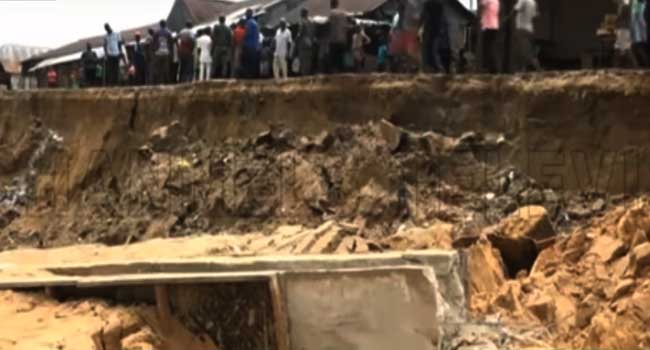 Federal lawmakers representing Delta-Ijaw have called for the attention of Federal Government and Niger Delta Development Commission (NDDC) over landslide and erosion in Tuomo, Burutu Local Government Area of Delta State.
The Senators made this plea during an assessment of the situation in Burutu Local Government Area of Delta State.
One of the Senators, James Manager representing Delta South Senatorial District, during the visit, described the effect of the erosion and landslide as devastating.
"Something urgent must be done to assuage the plight of the community and those affected. I hereby call on the NDDC, the Federal and State government to do the needful before it is too late," he said.
The people of Tuomo, last week, woke up to the tragedy of a landslide which left their community on the brink of being swept away and submerged by water.
This situation got the attention of lawmakers from the Delta-Ijaw extraction who visited the affected areas and demanded a swift response from the government before lives and properties are lost.
Also speaking, a lawmaker at the Federal House of Representative, Julius Pondi, expressed shock at the level of the landslide.
"I have directed the NDDC and the contractor handling the Tuomo community shoreline protection project to give enough information regarding the project for proper assessment," he said.
Sympathising with the people of Tuomo community over the natural disaster, he promised to raise the issue at the floor of the House.
"I will move a motion on the floor of the House to draw the attention of the Federal government to this community for immediate action by relevant authorities," he promised.
The lawmakers, traditional rulers and other Niger Delta activists who witnessed the event also believe restiveness in the region can become a thing of the past if the government take more seriously, issues affecting the region and it's development.