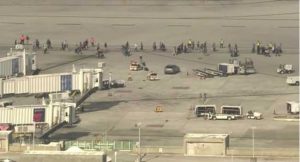 The man suspected of carrying out a deadly shooting at a Florida airport on Friday, 26-year old Esteban Santiago, has been charged by prosecutors.
Santiago is accused of opening fire at Fort Lauderdale Airport, killing five people and injuring at least six others.
He is charged with carrying out an act of violence at an international airport resulting in death, which carries a maximum punishment of execution.
The 26-year old who also faces lesser weapons charges reportedly told agents he had planned the attack and bought a one-way ticket to Fort Lauderdale.
The motive of the shooting is still unknown but authorities say that terrorism had not been ruled out.
The incident occurred at the baggage claim area in Terminal 2 of the airport.
Nearly 2.5 million travelers passed through Fort Lauderdale's airport in November 2016, according to a government report on the facility.
There are four terminals at the airport, which ranks 21st in the US in terms of total passengers.
The airport serves about 30 airlines. Many passengers use it because of its convenience to nearby cruse ship terminals.