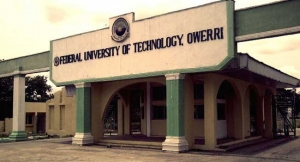 Workers in the Federal University of Technology, Owerri (FUTO) have embarked on a protest against the leadership of the university.
Under the auspices of the Senior Staff Association of Nigerian Universities (SSANU), Non-Academic Staff Union (NASU) and the National Association of Academic Technologists (NAAT), the workers are protesting the non-promotion of their members for over two years.
Addressing newsmen during the protest at the university premises in Owerri, the Imo State capital, the chapter chairman of SSANU, Loveth Ekwemalor, accused the management of introducing unfriendly appraisal guidelines to stagnate staff promotion as against what is contained in the current university scheme of service.
They also accused the management of non-implementation of the Tertiary Education Trust Fund (TETfund) ratio of 30:70 non-teaching and teaching staff conference ratio.
Responding to the allegations, the Deputy Vice Chancellor (Administration) of the Federal University of Technology, Owerri (FUTO) Mr Francis Eze, described the protest as uncalled for and unwarranted.
He said that the university council had already set up a committee to address the issue of promotion and it was expected that the union would wait for the outcome of the committee's decision before embarking on any protest.
Mr Eze said that it was not true that staff have not been promoted in the school over the last two years, adding that the action by the three unions was ill-motivated and unwarranted.