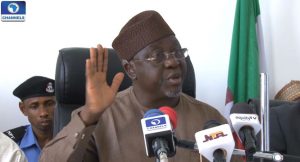 Governor Tanko Al-makura of Nasarawa State in north-central Nigeria has debunked claims that part of Agatu land has been ceded to Fulanis.
Agatu people in Benue State had alleged that Mr Al-makura and the Governor of Benue State, Mr Samuel Ortom, facilitated the ceding.
They also claimed that both governors created grazing routes and ranches during their visit to the area to broker peace between farmers and Fulani herdsmen that have had years of disagreements.
Unpatriotic Allegations
He explained that what they did was to ensure that the both parties reconciled their differences without giving favour to one side at the expense of the other.
While clearing the air on the issue, he described the allegations as unpatriotic and mischievous, saying their efforts were misconstrued.
He noted that in the agreement reached which the governors, the leaders of Agatu and Fulanis signed, it was indicated that all parties had agreed to live in peace.

"What we did in that mediation, contrary to what is going around by some mischievous individuals, was to bring peace between the Agatus and Fulanis.
"We have not ceded any part of Agatu to the Fulanis at all. We have not created any grazing reserve. We have not earmarked any area as ranching area. What we did was to facilitate the usage of the routes that have been normal routes where the nomadics and migrating Fulanis are passing from Nasarawa through to Benue and onward to Kogi and other parts of the country.
"We requested for three routes that were the normal routes but because of the sensitivity and sensibility of the situation at that point in time, only one was the one that we agreed the Fulanis will be using. So, that cannot be construed to mean creation of reserve or ceding of any part of Benue to the Fulanis.
"The routes, for the purpose of clarification, are to start from Guto in Loko development area of Nasarawa State to Adanyi, from Adanyi through to Ogumagbo. From Ogumagbo, they will cross to Bagana in Kogi State. Where is the ceding of any part of Agatu to the fulanis?" he questioned.
Mr Al-makura insisted that the allegation was unpatriotic and did not reflect the spirit of one Nigeria.
"I believe the agreement was well meant and accepted by all. For the avoidance of doubts it is to facilitate grazing routes for the nomadic to pass so that we don't have a situation where there will be any crisis," he added.