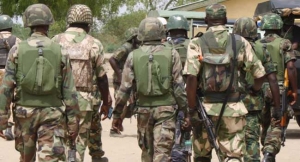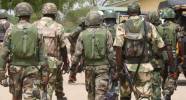 The Nigerian Army has carried out a clearance operation on remnants of Boko Haram terrorists in Yobe State, Northeast Nigeria.
A statement by the Army spokesman, Colonel Sani Usman, disclosed that the feat was made by troops of Operation Lafiya Dole in the early hours of Wednesday.
The operation followed activities of the terrorists around Jororo and Tombaeji villages in Geidam Local Government Area of Yobe State.
The fighting patrol team came into contact with some Boko Haram terrorists around Gajire village, during which there was a firefight that lasted for about 15 minutes.
"The gallant troops overpowered the terrorists and killed four of them and captured one alive.
"The victorious troops also recovered two General Purpose Machine Guns (GMPG), two AK-47 Rifles and 144 rounds of 7.62mm (Special) ammunition from the terrorists.
"In addition, they also recovered two KASEA branded motorcycles," the statement said.
Colonel Usman noted that the troops have continued to patrol the general area in search of possible remnants of the Boko Haram terrorists that might be hibernating in the area.
"The ever vigilant troops of Operation Lafiya Dole have continued their routine operations maintaining vigilance, to prevent further actions by the Boko Haram terrorists in their respective areas of operations," he said.
Not less than 30 terrorists had been reportedly killed in a clash with troops in a village near Lake Chad and the Nigerian border.
The incident, which was said to have occurred on Monday also resulted in the death of five soldiers from the Republic of Niger.
The fighting reportedly started after the Army fell into an ambush, leaving six soldiers injured, and two of the militants captured.