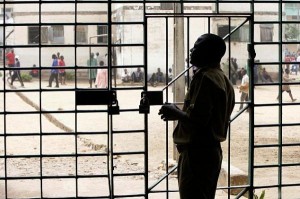 The Minister of Interior, General Abdulrahman Dambazau (Rtd), has read the riot act to officials of the Nigerian Prisons Service (NPS), saying the era of indiscriminate delay by prisons officials to present accused persons in court would no longer be tolerated.
General Dambazau gave the warning at an emergency summit on the state of prisons in Nigeria organised by the National Human Rights Commission (NHRC) in Abuja, the Federal Capital Territory.
While calling for an urgent decongestion of the prisons across all states in Nigeria, General Dambazau also decried the increasing number of awaiting trial inmates and the inhuman treatment they face in prisons.
In a moment of lamentation, the Controller General of the Nigerian Prisons Service, Dr. Peter Ekpendu, enumerated the various challenges of the service as the Executive Director of Carmelite Prisoners Interest Organisation, Reverend Father Ambrose Ekeroku, criticised the inhuman treatment of prisoners by prison officials and security agencies.
The Executive Secretary of the NHRC, Professor Bem Angwe, used the occasion to advise the Federal government against swapping of prisoners.
Nigeria and the sub-Saharan Africa are faced with problems of prison congestion, excessive use of force during arrest of suspects, torture, unlawful detention and abuse of prisoners among other issues.
The prisons reform conference, according to the organisers, was aimed at exploring new efforts at reforming the sector in a bid to proffer effective and sustainable solution.