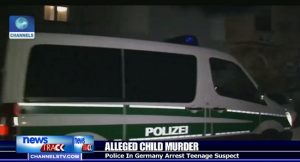 The German police has arrested a teenager suspected of killing his nine-year-old neighbor, after a nationwide manhunt.
Police began searching for the 19-year-old Marcel Hesse, after the dead boy was found at his home in the western city of Herne, on Monday night.
The teenager was arrested after identifying himself at a restaurant.
German authorities said he posted images of the body (with multiple stab wounds) online, and also reported a fire at a nearby flat, where another body was found.