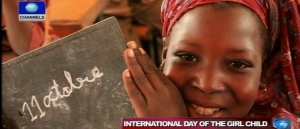 The Sultan of Sokoto, Sa'ad Abubakar and the United Nations Children Education Fund (UNICEF) have urged Governors of the 19 northern Nigerian states and parents to encourage girl-child education and eradicate the Almajiri syndrome.
They are of the opinion that the move will eradicate illiteracy and poverty in the region.
The Sultan and UNICEF Country Representatives made the call on Sunday in Kaduna at a one-day advocacy meeting with the Commissioners of Education and traditional rulers from the 19 northern states.
The meeting was organised by the Sultan Foundation For Peace and Development to mobilise advocacy and support for the programme.
In his speech, Mr Abubakar while urging the Governors of the northern states to work out a deliberate plan to promote girl-child education in the region, also explained that Almajiri and all forms of begging in the region were against the teachings of Islam.
He expressed worry that the alarming rate of young girls dropping out of school, if not addressed as soon as possible, would continue to militate against the socio-economic development of the region in particular and the country in general.
In her remarks, the UNICEF Country Representative in Nigeria, Jean Gough, noted that education remained the cornerstone of any development, which without it, no nation could achieve any meaningful development.
While she called on leaders of northern Nigeria to commit and take action to reduce the gap in girls' enrollment and completion of basic education, she was optimistic that the meeting would also help to find solutions to challenges militating against equal access to education by the girl-child especially in the northeast where many children are out of school due to Boko Haram attacks.
The 2013 DHS education survey revealed that educational marginalisation in northern Nigeria is particularly pronounced among women.
According to the survey, about 69. 4 per cent of women in the north have no access to education at all when compared with the 5.5 per cent in the southern region.
Participants at the meeting believed that what was needed now was for the various State Governments in the region to develop a strategy of prioritising education, as an important way to tackle education deprivation for the girls.