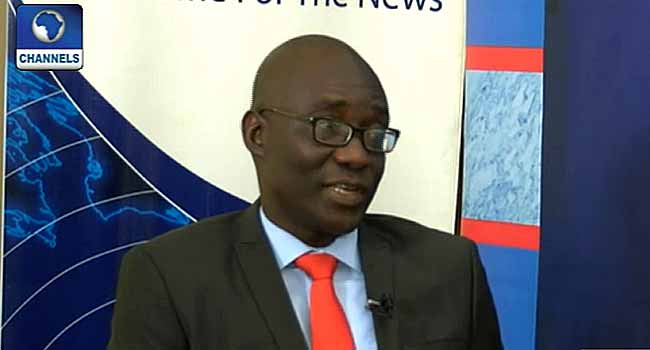 The Peoples Democratic Party (PDP) candidate in the Ekiti State governorship election, Professor Kolapo Olusola says he is proud of his political father, Governor Ayo Fayose.
Olusola in an interview on Channels Television's Programme, Sunday Politics noted that his emergence as the party's flagbearer in the July 14 gubernatorial polls was as a result of his selfless service to the people of the state and this was recognised by the governor.
"I have a political father who is Peter Ayodele Fayose and I am proud of him. The issue at stake is Ekiti State and the bulk stops at my table when I become governor.
"If I am Fayose's boy, good. The most important thing is that Ekiti State comes first and my performance is what matters," he said.
The governorship aspirant expressed confidence of emerging victorious in the polls. According to him, the people of the state were solidly behind him and the PDP.
"Ekiti people are behind us, they are behind Olusola Eleka and Fayose. They are behind PDP and you can be rest assured that we are going to win come July 14."
He also criticised the All Progressives Congress' (APC) governorship candidate, Kayode Fayemi, alleging that he plunged the state into debt while he was governor.
Olusola, who is currently the deputy governor of Ekiti State assured that if he is elected as governor, would consolidate on the achievements of Governor Fayose and make life easy for the people.
He noted that he is fit to rule Ekiti State as an academic with years of experience in teaching and mentoring.
"As a professor with 24 years teaching experience in the academics, not only that, I have mentored many people. So, I believe I have the required background, intellectual capacity and exposure to govern Ekiti State."