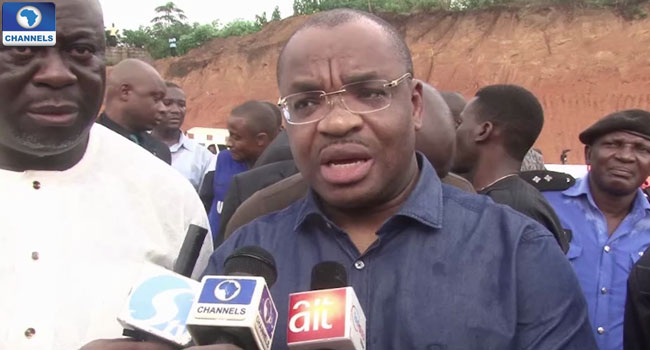 The Governor of Akwa Ibom State, Udom Emmanuel, has given an account of how his presence in Reigners Church on the day the roof of the building caved in on the congregation is something he thanks God for.
The incident that occurred eights days ago, left many dead and several others injured, as they scampered for safety.
Although the Governor was at risk of death, he believes his presence in the church was ordered by God.
He says he is happy that he was inside the church building during its unfortunate collapse, noting that his presence and personal intervention helped in effective rescue operation there.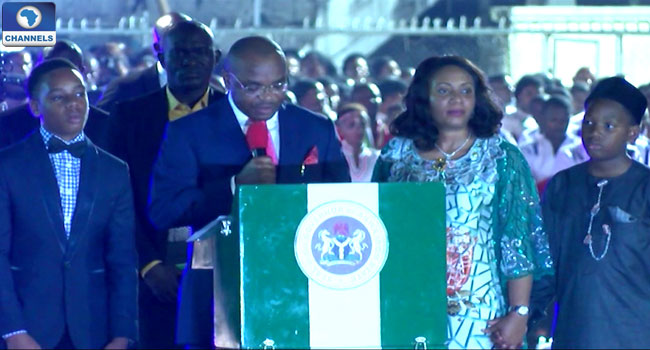 The governor made the remark at the Uyo Township Stadium during the state government sponsored 2016 Christmas Carols Night.
He said: "The footsteps of the righteous are ordered by God".
To Share In Their Pains
Mr Emmanuel told thousands of worshipers who gathered, Saturday night for the Christmas Carol festival that God took him there to save lives.
According to him, the number of casualties would have been higher if he was not there in person at the time the incident occurred.
"I believe that if I were not there to personally supervise the rescue efforts and mobilise the best possible network of medical experts and rescue workers, the casualties would have been a lot more," he stressed.
Governor Emmanuel said he was not elected governor to share only in the joy of the people, but to also share in their pains and agony.
"We are all in the same boat. I share that grievous pain with everyone on that Black Saturday inside that church. My heart would bleed forever, as I recollect the harrowing scene," the governor said.
Mr Emmanuel thanked President Muhammadu Buhari and other national leaders for showing solidarity with the state during the incident.
He urged the people to remain united in love and faith in God in order to attain their divine destiny as a people, assuring them that "we will all recover from this tragedy and march on to greatness".
At least 27 people lost their lives, while 37 were injured, according to the police, when an uncompleted building housing the Reigners Bible Church, Uyo, collapsed during a ceremony to ordain the church founder, Akan Weeks, as a bishop.
One minute silence was observed, during the carol night, in honour of all those who lost their lives in the church building collapse.
The state government has since set up a panel to investigate the cause of the collapse.