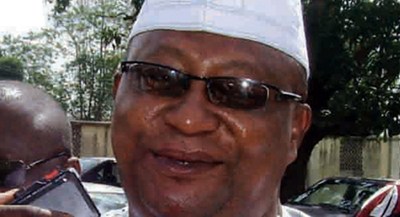 The first Executive Governor of Osun State, Isiaka Adeleke, has officially dumped the People's Democratic Party (PDP) to pitch tent with the All Progressives Congress (APC) in the state.
The defection of Senator Adeleke who was also on the governorship race for the PDP ticket few months back is seen as a major boost for the re-election bid of Governor Rauf Aregbesola.
Welcoming Isiaka Adeleke into the APC fold in Osogbo the state capital, the Interim National Chairman of the Party, Adebisi Akande, Governors of Ekiti and Osun States all describe the APC as a party of positive thinkers, hence the defection of prominent members of the PDP to the Party.
They expressed optimism that with the people oriented programmes of Governor Aregbesola's administration in Osun State more PDP stalwarts will still defect to the APC.
Former Governor Adeleke, who came along to the APC with the State PDP Deputy Chairman, Bashir Salam, some local government officials and House of Representatives members in the past PDP administration, described his defection as homecoming.
He promised to work for the victory of the APC in the August 9 Governorship election.