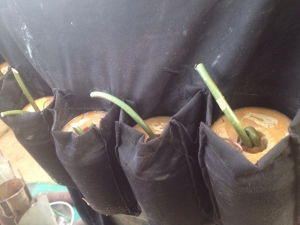 Suicide bombing has claimed several lives in Nigeria's northeast, in the heat of insurgency by Boko Haram terrorists.
Heightened counter-terrorism operations in the northeast have reduced the insurgents' activities that have been on in the area in the last seven years.
Forced out of their enclaves, last bastion in Sambisa forest and territories they have occupied, the terrorists have taken to attacking soft targets, mostly with suicide bombers who are more of young females.
The challenge for most victims have been the inability to identify a suicide bomber or persons suspected to be having Improvised Explosive Device (IED) strapped to their body, waiting to be detonated.
In the midst of the counter-terrorism operations, the Nigerian Army is making attempts to sensitise the public on how to identify a suicide bomber or their accomplice.
The spokesman for the Nigerian Army, Brigadier General Sani Usman, stressed the need for residents of different communities in Nigeria's northeast and other cities to be wary of fleeing Boko Haram members that could infiltrate their settlements and carry out attacks on soft targets.
He hinted that the process of coupling an IED would require inputs from different persons, making it possible for observant persons to know that crisis was imminent.
"Terrorists are normal human beings that mingle with the public. Whenever you are coupling an IED about 10 other persons will be in the chain of it. If the public are more vigilant they will notice something amiss," he said.
Giving further hint on how to identify a suicide bomber, Brigadier General Usman said: "When you see somebody buying bells of nails and you know for sure he does not have the capacity to buy that quantity of nails and you know him full well to the point that he is not embarking on a building project.
"Sometimes you will see somebody in the night moving about when every other normal human being is sleeping or somebody, wearing a winter coat when actually it is so hot. His mode of dressing is so awkward that you will think that you are in a winter society. In most cases they are odd".
He urged Nigerians to report suspected persons to security agencies within their locality to save lives, stressing that the war on terror could not be won by the military alone.
According to him, one strategy that the military had employed that is yielding result, is the establishment of Joint Task Force (JTF) with residents of communities in the northeast, whom he said aided the ousting of terrorists from territories they occupied.
"The JTF has been operating in the locality and they are familiar with the culture.
"They know the mode of dressing of people within a locality and that, a soldier posted to the area, may not know. They can identify when there is something strange about a person's dress.
"It is very important that we involve the people that are on ground," he said.
International community providing support to the Nigerian military had advised the forces to involve locals in the war against terror to enable them quickly differentiate terrorists from other residents.