Chevening Nigeria Alumni have called for the prioritisation of human capital development in order to achieve sustainable development in the country.
They believe that investing in human capital especially through education, can fill up skill gaps and in turn reduce the rate of poverty and unemployment.
This was the crux of their discussion at the second edition of the Chevening Nigeria Alumni Leadership Summit which held in Lagos on Friday.
Exemplary Leadership
Exemplary Leadership
Speaking on the theme "Partnerships for Equipping Nigerian Youths for Work and Innovation in the Digital Age", the President of the Alumni, Mr John Momoh, who is also the Chairman of the Channels Media Group, said it was relevant to the current socio-political realities of the country.
Momoh explained that now more than ever, Nigeria needs exemplary leaders and the youth have major roles to play in making that a reality.
He said, "We are in an election year when we have to decide those who will lead us for another four years. Secondly, we are at a time where technological innovation Is asking us to shape up or shape out.
"We should be catching up with the trends or we get left behind.
"We are at a time when we need not only think about our socio-economic and political future but also do something about it using technology and in so doing, we envisage that our youth will be playing very key roles especially if sustainability is our watchword.
"Never before in our 58-year-old history as an independent nation have we required exemplary leadership than now.
"We need individuals in different sectors of the country who will not put themselves first but who will seek the common good.
"Cheveners don't only possess these leadership qualities, they also have a vision to drive others on a mission".
The British Deputy High Commissioner, Laure Beaufils, also believes that investing in quality education is critical in ensuring that the youths are well prepared for the future.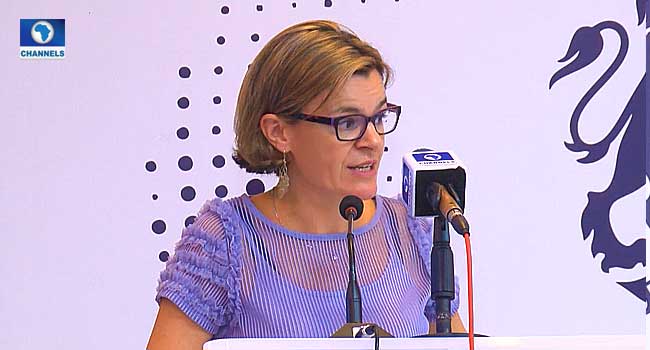 "Basic education is fundamental, and I think its time to rethink it, to teach the lessons that young people will need in the future," she said.
Beaufils, however, noted that the challenges of human capital development are not peculiar to Nigeria alone.
The summit was also a celebration of 35 years since Chevening awarded its first scholarship in the country.
Nigeria currently boasts of an alumni base of over 1,200 Nigerian intellectuals across several fields.