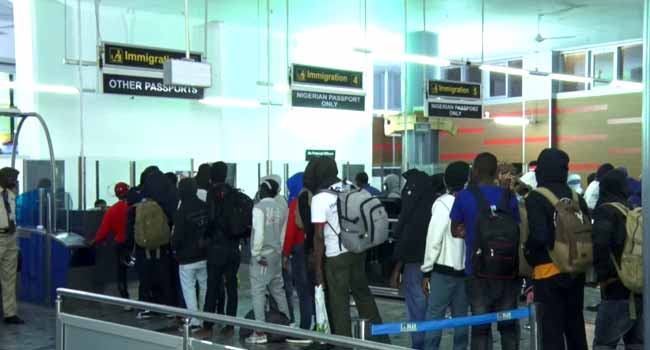 The Federal Government says it will investigate suspected human trafficking in the case of the 155 Nigerian football fans who got stranded in Russia after the World Cup tournament.
Minister of Foreign Affairs, Geoffrey Onyeama, revealed this to reporters on Friday at the Nnamdi Azikiwe International Airport, Abuja after receiving the returnees.
PHOTOS: FG Repatriates 155 Nigerians From Russia
The stranded Nigerians, who besieged the nation's embassy in Moscow on July 12, were safely returned to the country following a directive by President Muhammadu Buhari.
Mr Onyeama said after a discussion with the Director General of National Agency for the Prohibition of Trafficking in Persons (NAPTIP), Ms Julie Okah–Donli, it was clear that there were possible cases of human trafficking among the returnees.
"I have spoken to the DG of NAPTIP and she had also indicated that they had sounded the alarm bells for these young children not to leave the country, that it had all the hallmarks of trafficking and irregular migration," he said.
The minister insisted that some of them, among whom was a nursing mother, were quite too young to have travelled to Russia by themselves solely for the purpose of the World Cup tournament.
He added that an investigation would also be launched into an allegation that some travel agents cancelled the return tickets of the football fans without informing them, leaving them stranded in the European country.
The Senior Special Assistant to the President on Media and Publicity, Garba Shehu, had revealed the Presidential directive in a statement, following the activities of the travel agents who reportedly cancelled the return tickets of their clients and abandoned them to their fate.
President Buhari had ordered Onyeama and the Minister of State for Aviation, Hadi Sirika, to commence the process of repatriating the stranded Nigerians.
Mr Shehu said the Presidential directive was in line with the policy of the Federal Government to ensure the welfare of all Nigerians in every part of the world.