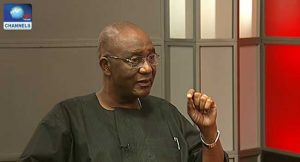 The Nigerian government has been advised to invest more in Hydro electricity generation as it would help end the nation's power problem.
Nigeria has of late shifted focus from hydro power generation to gas and other forms, but the Chairman of William Duncan Hydro, Joshua Mukan, sees the need to go back to Hydro.
Nigeria has two major rivers – Niger and Benue – that could be explored to boost power supply.
Mr Mukan said that lack of necessary infrastructure was responsible for the problem faced in the power sector.
During an interview on Sunrise Daily, a Channels Television's programme, he said: "The infrastructure leading to these bio-generation plants are not there and that is why people have been clamouring for this Petroleum Industry Bill to be passed, so that investors can come and invest in this infrastructures, but we are not there yet.
"That is why I have always advocated for power generation through hydro. We know it, Kainji dam, let me be honest, some of us were very young when Kainji dam was set up and it is still running.
"Now all the thermal plants, believe me, (which) were done probably 10, 15, 20, years are not running".
The William Duncan Hydro boss also suggested to the Federal Government to invest monies recovered from looters of the nation's treasury in hydro power generation.
"I am suggesting, if I were this government, the money we have collected from people who have looted the treasury of the nation, I will invest all that money in hydroelectric power."
Mr Mukan, however, believed that with time efficiency in the power sector would be accomplished but labelled Nigerians as "bad managers of expectation", appealing to them to exercise patience.
"The worst scenario is not to even start. It is good that some of them have been privatised and with time I believe efficiency would come but one thing I know about we Nigerians, including me, is that we are very bad managers of expectations.
"If we have the patience and understanding and if we can manage our expectations well then some of us may drink less of the high blood pressure medication," he said.
Recently, Nigeria's gas plants have experienced a shortfall in supply, a situation the government said was caused by resurging militancy in the nation's Niger Delta region where gas supplies come from.
A group that calls itself the Niger Delta Avengers has carried out several attacks on some oil installations in the region, some of which were gas pipelines.
Switching to hydro power generation, according to experts will reduce such attacks on the facilities and increase the nation's power supply significantly.
At the moment, the nation of over 160 million population is grappling with less than 5,000 megawatts of electricity, a capacity that is far below the nation's need.