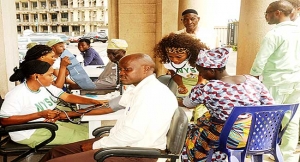 At least 700 people from three Local Government Areas (LGAs) of Oyo State have received free health services under the 'Rapid Response Initiative' of the Federal Government.
The Federal Ministry of Health kicked off the initiative at the University College Hospital (UCH) in Ibadan, the state's capital in southwest Nigeria.
The Chief Medical Director at the UCH, Professor Temitope Alonge, said that the initiative was aimed at providing access to quality healthcare services to poor people in their local communities.
The programme, which was scheduled to hold its first phase within the localities of all the 11 LGAs in Ibadan, started in Akinyele, Ona Ara and Ibadan Northwest LGAs.
Patients were assessed and treated for various ailments ranging from hypertension, diabetes, hernia and eye defects among other complex health issues.
Professor Alonge disclosed that more than 300 people have been given referrals to UCH out of which at least 60 would be operated upon free of charge.
"One thing we have been seeing which is interesting is that we have a lot of people whose blood pressures are ranging from 300, 200 to 120, 220 and that is one of the things we are worried about and they are a lot.
"About one third of them almost have one problem with their eyes, cataract and cornea opacity. Again all of those ones will have to be attended to.
"We have a retired matron, a public health officer who is from Moniya and she took it upon herself yesterday (Sunday) and two days ago to go to the mosques and churches to do the enlightenment.
"This is a good lesson for us. So we will do the same (by) looking for people in that particular locality and use them as focal persons to help us spread the news," he said.
The Chairman of the Nigeria Medical Association (NMA) in Oyo State, Dr. Babtunde Latunji, who accompanied other doctors to launch the outreach, acknowledged the initiative's focus on providing free access for rural dwellers and those in the urban centres within the city.
"Because of poverty or cost of affordability, they have been keeping to themselves and they can't actually seek for the health intervention that rather addressed their issues.
"You have cases like glaucoma, you can have cataract you can have hernia, you can have cleft palate, even VVF and other gynaecological cases in this environment.
"So with this kind of intervention, we are hopeful that perhaps people will be able to access free health services and their health condition will be a little bit ameliorated," Dr. Latunji stated.
Professor Alonge, Dr. Latunji , 20 doctors from pediatric, ophthalmic and general surgery departments, as well as about 30 relevant health workers have been drafted to attend to as many patients as possible within the local governments listed for the free medical outreach.