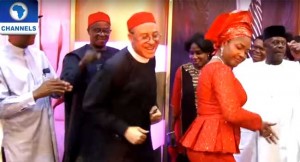 The Founder of the Centre for Value and Leadership, Professor Pat Utomi, has joined the league of those in the diamond age.
The one-time presidential candidate of the Social Democratic Mega Party, called up friends, family and admirers for a celebration of the new era in his life.
Known for being outspoken, he is a professor of Political Economy, a Management Expert and Fellow of the Institute of Management Consultants of Nigeria.
Born in Kaduna, the north-western part of Nigeria, the professor who is an indigene of Ibuzo in Delta State, served as a Special Adviser to former President Shehu Shagari during Nigeria's second republic.

He cuts a jack and master figure in all his trades, leaving a trail of excellence as he moves on to the next one.
Professor Pat Utomi spoke to Channels Television's Metrofile and reflects on the state of the nation as he marks another milestone in his life.
"We are not where we should be," he said.
Enjoy the interview and happy scenes from the 60th birthday celebration.
Here, the usually serious minded professor shows the other side of him with unbelievable dance steps to upbeat Nigerian hip hop music.