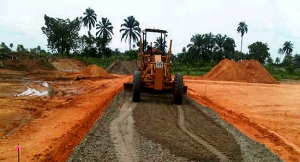 The Ekiti state government has flagged off the last phase of the extension of Ado-Ikere Ekiti road dualisation project, with a promise to deliver the project by October 2017.
Governor Ayo Fayose, on Thursday flagged off the demolition of structures to pave way for the extension of the project; an exercise that signifies the commencement of the final phase.
It was a rousing welcome for the Ekiti Governor, as he returned into the ancient town of Ikere Ekiti months after he paid compensation to those whose structures would be affected as a result of the extension of the dualisation project.
The Governor on his arrival, addressed a mammoth crowd before proceeding to perform the formal flag-off of the demolition exercise.
Governor Fayose, while speaking to newsmen said that "the final extension of the Ado-Ikere Ekiti road dualisation project will cost the state government the sum of 8oo million naira".
The people of Ikere Ekiti had words of appreciation for the Governor, promising to continue in their support for him.
Part of their requests was to remind him to pick his successor from the town, ahead of the 2018 governorship election.
Fayose, however, said that he would seek the face of God to choose his successor, assuring all aspirants vying for the office of the governor after his tenure under the PDP of a level playing ground.
"I will take my time to choose my successor because I don't want any mistake, I am already seeking the face of God to give me a candidate that will have the interest of the state at heart," he said.
He also told residents present at the event that his administration remained "committed to the infrastructural development of the state despite the financial challenges facing the state".