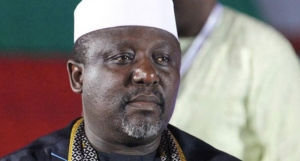 The Imo State Governor, Rochas Okorocha, has urged all Nigerians irrespective of  religion and ethnic differences to unite and fight the menace of Boko Haram ravaging the nation.
The Governor stated this while breaking fast with the Imo State Muslim community at the Government House in Owerri, the state capital.
Governor Okorocha said that the Boko Haram sect should be seen as a common enemy who inflicts pain and terror on both Christians and Muslims.
While condemning the recent spate of bombings in Jos, Zaria and the northeast region of the country, the Governor urged Muslims to seize the opportunity of the Ramadan to pray for peace in Nigeria and also pray for President Muhammadu Buhari's administration so it can deliver the much desired change to all Nigerians.
Governor Okorocha also urged all Muslims in Imo State to feel at home and go about their lawful duties as the Imo State Government would ensure proper and adequate protection of lives and property of all Imo residents irrespective of their religion or tribe.