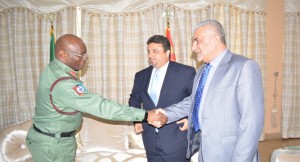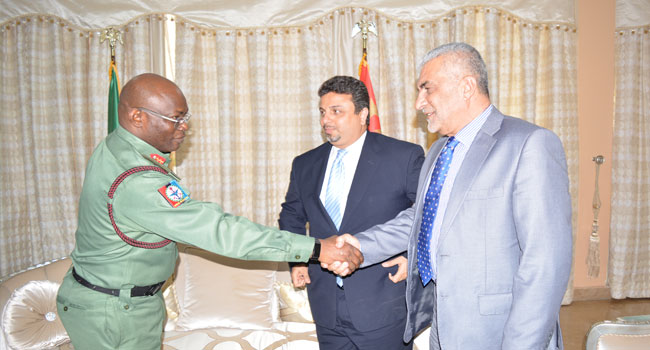 The Republic of Jordan and Nigeria are exploring areas of collaboration to bring an end to the threats posed by the Boko Haram terrorists in Nigeria's northeast.
A delegation led by the Special Adviser to the King of Jordan on Political Affairs, Mr Manas Dabbas, were in Nigeria on Wednesday.
The delegation congratulated the Chief of Defence Staff (CDS) and the Nigerian Armed Forces for their persistence at reducing the activities of the Boko Haram Terrorists.
Jordan sought closer collaboration in the area of intelligence gathering, regional cooperation and capacity building to enhance total eradication of extremist groups in Africa.
Mr Dabbas stated that the world was experiencing serious security threats from assorted radical groups like Boko Haram, Al-Qaeda and Al Shabbab among others.
He called for combined efforts by affected countries to provide mechanisms to under study conflicts and crisis occasioned by terrorist organisations with the aim of defeating such terrorist groups.
The spokesman for His Royal Majesty King Abdullah II praised the efforts of the CDS in piloting the affairs of the Nigerian Armed Forces and promised his country's commitment to assisting Nigeria in combating the threat posed by Boko Haram.
The Chief of Defence Staff, General Gabriel Olonisakin, thanked the Jordanian envoy for the visit and told the delegation about the operations of the Multi-National Joint Task Force and the synergy between regional troops to degrade the Boko Haram terrorists.
The CDS solicited for cooperation in the area of training and provisions of counter Improved Explosive Devices (IEDs) and emphasised the need to interface with regional forces and security agencies to eliminate the threat of terrorism.
He was accompanied by some Principal Staff Officers from Defence Headquarters to receive the Jordanian delegation.