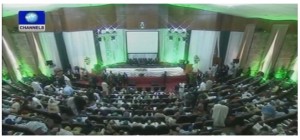 Advocates of state police in Nigeria may still have a lot of work to do, as two committees at the National Conference on Monday rejected the idea.
The issue failed to get the approval at the Committees on Devolution of Power and National Security.
The issue was debated with passion by proponents and opponents in the committees as they resume deliberation for the week.
It is just three days left for committees to complete their work and submit their recommendations, but some committees were still receiving presentation from resource people and agencies they had invited, such as the Nigeria communication commission and the Nigeria National Petroleum Corporation.
The committee on devolution of power continued where they left off debating items that should be moved from the exclusive list of the constitution to the concurrent list.
It was difficult to reach a consensus on the item on mines and minerals including oil fields, oil mining geographical surveys and natural gas.
The issue was then put aside and the debate on the issue of the police came up.
In the committee on National Security, the sub-committee of police presenting its report rejected the creation of state police.
The sub-committee, however, recommended that the appointment of a Commissioner of Police should be in consultation with the state governor.
As time is no longer on their side, the committees are working to complete their assignment before Wednesday.
The insecurity situation in the north eastern part of Nigeria had led to the call for state police, which advocates believe would tackle the issue at the grassroots, as police officials would understand the community they would be policing better.
Those against the establishment of state police are afraid that the police could be abused by Nigerians, who may use them to fight political opponents.