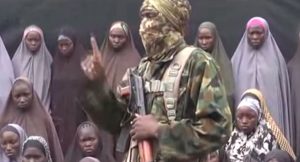 One of the individuals who were recently questioned by the military over their closeness to Boko Haram, Mrs Aisha Wakil, has revealed that the group is ready for negotiation with the Nigerian government over the release of the Chibok girls.
Mrs Wakil in an interview with the Nation Online said she had been piling pressure on the Boko Haram leaders to release the girls and other captives, adding that the group might soon make an announcement on the issue.
Mrs Wakil was recently declared wanted by the military, alongside one Ahmed Bolori and Belgium-based Nigerian journalist Ahmed Salkida, over their links with the terrorist group and the release of the latest video of the Chibok girls.
While Mrs Wakil and Mr Bolori voluntarily reported to the authorities and were granted bail almost days after, Mr Salkida expressed willingness to return to the country to prove his innocence of the allegation.
Wakil had, after she was declared wanted, insisted that she had been fighting for peace long before the Chibok girls were kidnapped and was well known to the security operatives.
"I have had meetings with (the) Chief of Army Staff and his people.
"I told them the way forward, to allow me come with some commanders of Boko Haram and discuss with them and present the release of CBGS.
"But they chose to do things their own ways only and never gave considerations to any of my suggestions," she said in a statement.