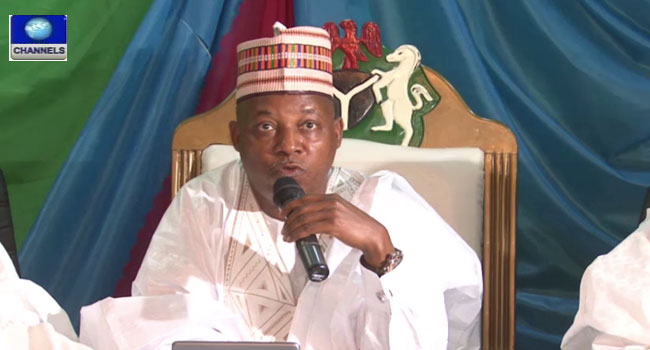 The Borno State Government has set aside 100 million Naira for the rebuilding of Dalori and Mairi villages recently attacked by suspected members of Boko Haram. 
Governor Kashim Shettima briefed reporters about the rehabilitation plan on Monday after a trip to Saudi Arabia where he sort critical development partnership with the Islamic Development Bank on rebuilding towns affected by insurgency.
He expressed sadness over the recent attacks, describing them as a setback to the ongoing rebuilding efforts.
One hundred million Naira would be set aside for the project, the governor told villagers in Dalori where over 65 locals were killed and more than 10,000 people displaced.
Late last year, the Borno State government commenced a rebuilding programme in communities destroyed by insurgents.
The plan is for the Internally Displaced Persons taking refuge in Maiduguri to begin to return to their original homes for an official closure of the makeshift camps by May.
A committee had already been set up to oversee the rebuilding of the recently attacked villages.
On the current state of the counter-terrorism operations in the northeast, a Borno Senator, Bashir Garbai, under whose constituency the recent attacks occurred, claimed that both the military and Boko Haram had full control of three separate local government areas in Borno State and share control in all the 21 other local government areas.
But Governor Shettima believes recent attacks in villages around Maiduguri are a backlash of successful military operations in Boko Haram hideouts in the Sambisa forest.
He insisted that the outlawed Boko Haram terrorists have been hugely decimated within the last seven months.
The military authorities are yet to substantiate or dispel the claims that Abadam, Mobbar and Kalabalge Local Government Areas of Borno State are still being controlled by Boko Haram.
Boko Haram activities in the northeast have left over two million persons displaced.
The terrorist group is attempting to establish and Islamic State in the region and end Western education.