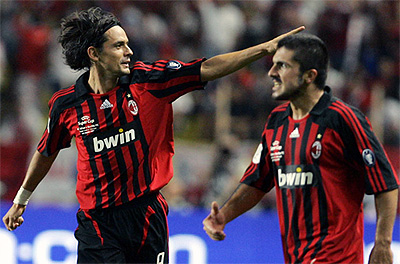 The duo of Gattuso and Inzaghi confirmed their exits from San Siro come season end after over a decade of fruitful service to AC Milan; one of the powerful clubs in the Serie A.
after an infrequent season and expiring contracts, they were given a green light to move and their release has made it the third football veteran to leave the Rossoneri with days in between, the first being Alessandro Nesta who revealed on Thursday that he will be exiting the club too this summer.
Players Info
Gennaro Gattuso
Gattuso started his career with Umbrian side Perugia and at the age of 19 took a transfer to Scottish team Rangers FC in July 1997 and with the exit of the coach Walter Smith who signed him, Gattuso left the club in 1998 as he never got constant playing time with the new coach and he often played out of position too. Gattuso moved to Salernitana for £4 million; an Italian club which was recently promoted to Serie A.
Gattuso joined Milan from Salernitana in 1999 for 8 million Euro,His style allowed Milan manager Carlo Ancelotti to place midfielder Andrea Pirlo in a more attacking position as Gattuso plays deeper in midfield as Gattus will often move forward to win the ball for the forward players and then return to his defensive position.
His style of play is characterised by fierce tackling and hard work — a style which has earned him the nickname of Ringhio (Growl).
He signed a contract extension in June 2003 and in October 2004 has made only six appearances this season after a serious eye problem forced him to spend several months on the side-lines.
Gattuso initially had the thought of staying at AC Milan if guaranteed an active role by the next season but changed his mind on leaving as he said there will be opportunity for young players to grow.
Filippo Inzaghi
Inzaghi commonly known as Pippo was born August 9th 1973,is a World Cup and Champion League winner who signed for  AC Milan in 2001 with a transfer from Juventus with a deal of 37 million Euro and so far he has scored 125 goals in 296 appearances for AC Milan.
Inzaghi became the first striker to score in all international club competitions open to European teams after his double against Boca Juniors during the FIFA Club World Cup final in 2007.
Filippo Inzaghi is currently the second all-time most prolific goal scorer in European club competitions with 70 goals only beaten by Raúl's 77 goals. He is also Milan's top international goal scorer in the club's history with 43 goals. He also holds the record for most hat-tricks in Serie A (10), and the UEFA Champions League (three – tied with Michael Owen and Lionel Messi).
He has only made eight appearances to date in 2011-12.
He announced his plan to move on with an open letter which was published on the club's website.