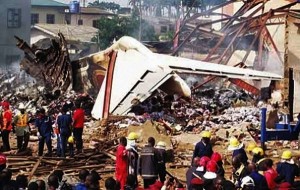 Families of victims of the 2012 Dana plane crash, which claimed the lives of 153 passengers, are demanding the immediate release of the final report on the crash by the Nigeria Civil Aviation Authority (NCAA).
Addressing a news conference in Abuja on the occasion of the fourth anniversary of the crash.
Chairman of the Families of the Victims, Mr Paul Okwulehie, also appealed to the federal government to compel the management of Dana Air to complete the payment of compensation to the affected families.
The group, which announced the establishment of a Safer Sky Foundation, further stressed the need for the federal government through its regulatory agencies to ensure that only air-worthy air crafts are allowed to operate in the nation's airspace.
A Mcdonnell Douglas MD-83 operating as flight 992 crashed into a two-storey building at Iju railway, Ishaga, a suburb of Lagos.
All 153 people on board the aircraft were killed. Following the crash, all flights by Dana Air were halted by Nigeria's Civil Aviation Authority.
But, the airline's licence was restored in September 2012, before the inquiry into the accident was concluded.
However, the airline was re-suspended six months after it was allowed to restart operations, before it resumed operations again.
Cenotaphs were unveiled in Abuja and Lagos to honour victims of the crash.