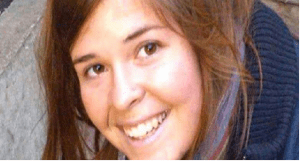 The parents of  an American woman, Kayla Mueller, a hostage which the ISIS said was killed on Friday when Jordanian fighter jets bombed a building where she was being held, are imploring ISIS to contact them, expressing hopes that she may still be alive.
Mueller was the last-known American hostage held by Islamic State, which controls wide areas of Syria and Iraq.
The parents of Kayla Mueller are imploring ISIS to contact them. They believe or at least hope that 26-year-old humanitarian worker Kayla, had not been killed.
The terror group captured Mueller, an Arizona native, in 2013. It said that a Jordanian airstrike that pounded their de facto capital of Raqqa in Syria also killed her.
The group had beheaded three other Americans, two Britons and two Japanese hostages – most of them aid workers or journalists – in recent months.
Mueller was taken hostage while leaving a hospital in the Northern Syrian city of Aleppo in August 2013.
The group's latest claim, detailed by the Site monitoring group, came just days after it released a video on Tuesday showing a captured Jordanian pilot, Mouath al-Kasaesbeh, being burned alive in a cage.
Jordan's King Abdullah, who was in Washington discussing how to deal with ISIS militants when the video was made public, vowed to avenge the pilot's death and ordered a stepped-up military role in the U.S.-led coalition against the group.