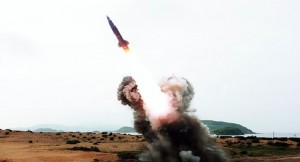 The Iraqi Security Forces have launched a rocket against the Islamic State militants' positions during clashes in the western part of Mosul, recapturing the second bridge.
The Al-Hurriya Freedom Bridge is the second of five bridges to be recaptured since the operation to retake the city from so-called Islamic State began in October.
This comes a day after Iraqi forces launched a new push against the western part of Mosul, as all five bridges were damaged in the coalition air strikes.
The International Organisation for Migration said about 45,000 people have fled as a result of intense fighting.
Aid agencies also said they can barely cope with the number of people arriving at their camps.