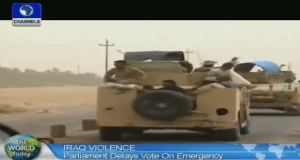 Iraqi security forces in the north patrol an area near Kirkuk have been fighting Sunni insurgents from an Al Qaeda splinter group called the Islamic State in Iraq and the Levant, or ISIL.
The militants took control on Tuesday near Mosul, Iraq's second biggest city.
On Wednesday, their control of the city extended further south, where the country's biggest oil refinery lies.
Wednesday's advance by ISIL is a devastating show of strength against the Shiite-led government.
An Audio recording purportedly of Abu Muhammad al-'Adnani, an official spokesman for ISIL, was released on Wednesday where he appears to boast of the group's recent conquests and urges fighters to march on the Iraqi capital.
Meanwhile, Turkey says it will retaliate if any of its 80 nationals seized by an Al Qaeda splinter group in northern Iraq are harmed.
Those captured during a lightning advance include Special Forces Soldiers, diplomats and children.
Also, The United States has expressed concern about the deteriorating security situation in Iraq and pledged "any appropriate assistance" to help the Iraqi government fend off a rapid military advance by Sunni militants.
"We join Turkey and the international community in calling for the immediate release of Turkey's kidnapped personnel. The security reiterated the United States' commitment to working with the Iraqi government and leaders across Iraq to support a unified approach against ISIL's continued aggression. We are in touch with the governments of Turkey and Iraq and stand ready to provide any appropriate assistance."
In the five days of fighting, half a million Iraqis have fled the city.