Dozens of world leaders gather in Israel to pay tributes to Shimon Peres, one of the country's founding fathers, who died on Wednesday at the age of 93.
Guests include the Palestinian leader Mahmoud Abbas, who is visiting Israel for the first time since 2010, U.S. President, Barrack Obama, Presidential candidate, Hillary Clinton with her husband, among others, who gathered at Jerusalem's Mount Herzl cemetery.
There has been tight security in Israel ahead of the state funeral of the former prime minister, Shimon Peres.
Israeli police chief Roni Alsheikh said preventative arrests were carried out on Arab and Jewish suspects who they feared might disrupt the ceremony.
Israeli Prime Minister Benjamin Netanyahu, led the series of eulogies, as he delivered his emotional address.
He described the former Isreali leader as "a great man of the world" adding that even as the world grieves his death, he had "left behind a true legacy of hope".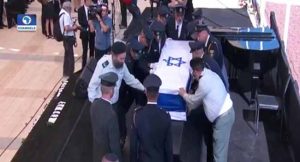 Former U.S. President Bill Clinton, who helped negotiate the Oslo peace accords between Israel and the Palestinians in the 1990's that led to a Nobel Peace Prize for Shimon Peres, also described him as Israel's "biggest dreamer".
President Obama, who shared a close friendship with the deceased, expressed grief while also praising his optimism.
Peres had fostered ties with him, that went beyond bilateral interests as he appeared to be more in synch with Obama's vision of global politics and regional peace than Prime Minister Benjamin Netanyahu.
He praised his optimism saying "It is that faith, that optimism, that belief, even when all the evidence to the contrary that tomorrow will be better, that makes us not only honor Shimon but love him.
Thousands of Israelis passed by his coffin outside the Knesset (parliament) throughout Thursday, to pay their last respects.