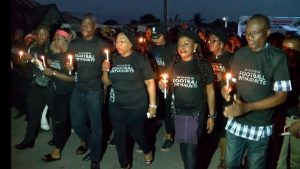 Women under the aegis of Mothers of Efik Kingdom have held a candlelight procession for the football fans who were electrocuted at a viewing centre in Calabar last week.
The procession was led by a former Special Adviser to ex-President Olusegun Obasanjo, Senator Florence Ita-Giwa.
This came a week after up to 30 football fans were electrocuted at a viewing centre in Nyaghassang community in Calabar, while they were watching the Europa League clash between Manchester United and Anderlecht.
The women and many youths, dressed in black, started the candlelight procession from the Access School Junction road in the town to the scene of the tragedy.
Ita-Giwa said the procession was aimed at commemorating their death and drawing attention to the needs of the community.
She said, "For such a profound painful thing to happen to a community like this, is not something that we should be quiet about. We felt that, for innocent people to come and die like that for their passion for football, we should come out and remember the day that it happened."
Ita-Giwa called on stakeholders and football administrators to make their presence felt in the community.
"The Nigeria Football Federation must come to the aid of these people. I propose that they should come and build a stadium and make this place a football community in future. We will not stop talking on your behalf, that the world must give attention to this community".
The Secretary of Nyaghassang Clan, Iso Baasey Edem, also participated in the procession.
The group had earlier visited some victims of the incident who were receiving medical attention at the University of Calabar Teaching Hospital.