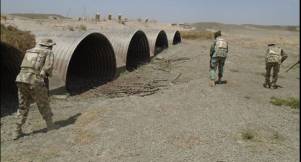 Nigerian troops in counter-terrorism operations in the nation's northeast have discovered a big pit in Jadda where the Boko Haram terrorists dump bodies of hapless victims of their nefarious activities to decompose.
The discovery was made by troops of 7 Division Strike Group Team B attached to 22 Brigade who had intensified efforts to clear the remnants of Boko Haram terrorists in the region
It was a combination of foot and mobile fighting patrols on daily basis to deny the Boko Haram terrorists freedom of action in their area of operations.
While in Bogoro, Duguno 1, Duguno 2 and 3 on Thursday, the troops on reaching Mbaraka encountered some suspected Boko Haram terrorists who engaged the patrol team in a gun battle.
The troops successfully cleared the terrorists and proceeded to Jadda village which was suspected to be a stronghold of the Boko Haram terrorists.
A statement by a spokesman for the army, Colonel Sani Usman, said a large number of the houses in the village were discovered to have the terrorists group's flags hoisted in their domains.
The troops engaged the Boko Haram terrorists and killed four of them before discovering the pit with decomposed bodies.
"It was also discovered that the terrorists held lots of people as hostage in Jadda.
"The fighting patrol team also succeeded in freeing those held hostage and recovered an AK-47 rifle with registration number OF-4814, 30 rounds of 7.62mm (Special) ammunition, 12 rounds of 7.62mm (NATO) ammunition, 14 Dane Guns, one motorcycle, two Solar panels and food storage facility. Other items include 120 litres of AGO and packs of Panadol," the statement read.
According to Colonel Sani, a soldier suffered gunshot wound and was evacuated for further medical treatment.
He said he was already in a stable condition and responding to treatment.