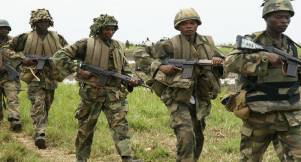 The Nigerian Army on Friday deployed another batch of 700 officers and soldiers to Liberia on a peacekeeping mission.
The troops received a 4-week special training in preparation for their induction into the United Nations Peacekeeping Mission in Liberia.
The troops had their passing out ceremony at the Nigerian Army Peacekeeping Centre, Jaji, Kaduna State, ahead of their departure to Liberia.
While addressing his men, the Chief of Army Staff, Lieutenant-General Tukur Buratai, warned them to avoid any act capable of tarnishing the image of the nation.
General Buratai, who was represented by the Chief of Training and Operations, Major General Hamza Umaru, also warned them that the Nigerian Army would not tolerate any act of cowardice or professional negligence while carrying out their operations in Liberia.
He advised the troops to abide by the Rules of Engagement, exhibit braveness as professionals and to also respect the cultural sensitivity of the people of Liberia.
He also reminded them of the United Nations' zero tolerance for drug trafficking.
On his part, the Acting Commandant of Nigerian Army Peacekeeping Centre, Brigadier General Adamu Dauda, said that the special training received by the soldiers is meant to equip them with the requisite skills that will enable them operate effectively in Liberia.
He expressed confidence that the high level of enthusiasm and cohesion exhibited by the soldiers would reflect on their operational conduct.
The training, according to the authorities, is in line with the Nigerian Army Headquarters' desire to ensure that troops receive the needed robust and theatre-specific pre-deployment training prior to their induction into peacekeeping missions.
The contingents are expected to depart to Liberia in a couple of days.