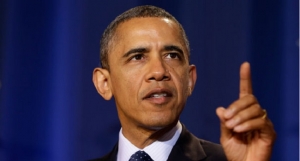 U.S. President, Barack Obama, has warned that the world would risk "even more war in the Middle East" without the nuclear agreement with Iran.
Obama made the statement in response to critics after Iran and six world powers sealed an accord in Vienna on Tuesday that will limit Iran's nuclear programme in return for the lifting of sanctions.
Reuters quoted the President as saying: "Without a deal, there would be no limits to Iran's nuclear program and Iran could move closer to a nuclear bomb … Without a deal, we risk even more war in the Middle East".
"Behave Differently"
The deal, reached with six world powers in Vienna, would begin to be implemented by November, Iranian Foreign Minister Mohammad, Javad Zarif, said earlier on Wednesday.
Obama expressed hopes that the agreement would encourage Iran to "behave differently," citing "its support of terrorism and its use of proxies to destabilise parts of the Middle East".
On Monday, Iranian President, Hassan Rouhani, tweeted that if there was a deal with world powers, it would be a "victory of diplomacy and mutual respect over outdated paradigm of exclusion and coercion. And this will be good beginning".
There has been stiff resistance to a deal from conservatives both in Iran and the US.