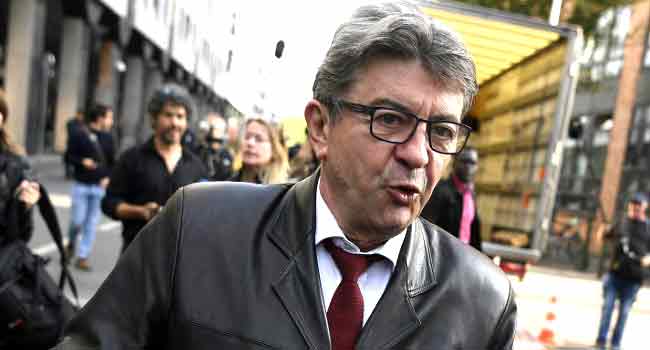 French police on Thursday questioned leftist leader Jean-Luc Melenchon for five hours in connection with two funding probes after raids on his home and party headquarters this week which he loudly protested.
The firebrand leader of the France Unbowed party, who has led opposition to President Emmanuel Macron's economic reforms, was summoned to the headquarters of the anti-corruption bureau in the Paris suburb of Nanterre.
The police are investigating allegations that he used EU funds for European Parliament assistants to pay staff for work carried out in France. They are also probing allegations of irregularities in his 2017 presidential campaign accounts.
The 67-year-old MP, who won 20 per cent of the vote in the first round of last year's presidential election, has denied any wrongdoing and claimed he is the victim of a political witch hunt.
He reacted furiously to the raids on his home and party headquarters on Tuesday, shouting at police officers, shoving a prosecutor and attempting to force open the door of his party's offices while the search was ongoing.
The former Socialist minister has been strongly criticised over his outburst, with members of Macron's government and centre-right Republicans accusing him of seeking to intimidate public servants and acting as if he were above the law.
Melenchon, who is famous for his tirades against globalisation, the EU and elites, admitted later that things "got heated" but said he had "no regrets". He is also alleged to mimicked a journalist's southern accent.
– A 'political manoeuvre' –
Melenchon said his questioning was a "political manoeuvre" of Macron, adding: "Mr Macron… the move has failed completely."
But Macron, who is in Brussels, defended the "independence" of the judicial system, adding: "We have a constitution and it is clear… There are no exceptions, even if it doesn't please some people."
And former French president Francois Hollande said Melenchon was a "victim of himself" and his own anger, not of the judicial system.
After Tuesday's events, the Paris prosecutor's office opened an investigating against Melenchon and other party officials over alleged "threats and acts of intimidation against judicial authorities" and "violence against people carrying out public duties".
Melenchon's party has filed a counter-complaint for police violence.
Thursday's questioning related to two investigations into his party's spending.
Several police unions have denounced Melenchon's behaviour as "unacceptable."
Melenchon is one of several French politicians, including far-right leader Marine Le Pen, who are accused of using funds available to European Parliament members for their Brussels-based assistants instead of political staff working in France.
Le Pen's National Rally (formerly National Front) and the centrist Modem party have also been raided by investigators in recent months.
Melenchon, who was a member of the European Parliament from 2009 to 2017, has denied the fake job allegations, which were made by a member of the National Rally.
He was also questioned Thursday over his 2017 campaign spending, specifically over invoices presented by two associations run by party loyalists.
Melenchon, like Le Pen, has claimed that the investigations are an attempt to silence him.
"France Unbowed is not treated like everyone else," he said Thursday, accusing the state of "trying to scare us".
AFP