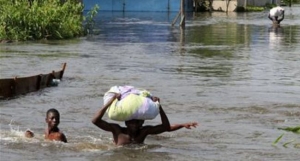 The National Kakanda Development Association (NKADA) has appealed to the Niger State government and other relevant agencies as a matter of urgency to speed up the resettlement plans of the most vulnerable flood affected communities in the state to Kolu Egba via Bina and Kuchi- Kebba proposed sites.
The call became necessary following the recent flooding of several communities in the Lapai area of Niger state, an incident which has been happening for five consecutive years and has caused untold hardship for the people.
The National President of NKADA, Ismaila Ayuba, was speaking at the grassroots meeting held at Muye in Lapai Local Government Area of the state and aimed at finding solutions to the challenge.
"The unfortunate situation started since the construction of Kanji, Jebba and Shiroro Hydro Power Dams which usually overflow downstream as a result of heavy rainfall that had left the community with losses unimaginable," he said.
Ayuba said that the community has been affected in several ways including loss of lives.
Farmlands, crops and animals have been washed away. Many houses, schools and worship buildings have been destroyed, while maternal health degraded with galloping unemployment rate.
While he applauded the state and local government for their policies and programmes, Mr Ayuba asked for the construction of the permanent Muye market, posting of personnel to its primary health centre and posting of science teachers to the secondary school to enable them commence science classes.
Consequently, the meeting reached resolutions that include the establishment of dry season demonstration plot at Egba, Bina and Cheku, the registration of 10 cooperatives with the aim of benefitting from agricultural financing scheme of the government and setting up of permanent settlement for flood vulnerable communities during the rainy season.
They also resolved that the newly constructed Muye Primary Health Centre should be put to full use by asking government to post staff to drive its operation, while a science class is also established at the local secondary school.
The stakeholders also recommended amicable settlement of disputes out of litigation as well as embarking on tree planting and minimizing deforestation in the area.
They agreed that there was need to also relate with relevant agencies to commence construction of the Muye market site.