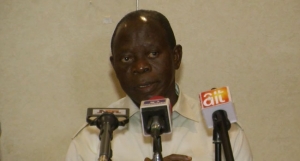 The much talked-about probe of the administration of former President Jonathan Goodluck has finally begun.
This was revealed by the ad-hoc committee on the management of excess crude account proceeds and accruals into the federation account set up by the National Economic Council and headed by the Governor of Edo State, Mr Adams Oshiomhole.
Governor Oshiomhole, who briefed journalists after the committee's meeting in Abuja on Thursday, explained that two international forensic audit firms would investigate how the revenue that accrued into the federation account was spent under former President Jonathan.
"We know now that although people talk of Excess Crude (Account), actually we have other revenues like bonuses, royalties (and) taxes, part of which also flow into the federation account, depending on the budget estimate of the National Assembly.
"So, we are taking a holistic review of the entire process and looking at all the agencies that ought to make contributions or fund the federation account.
"We are convinced that by appointing audit firms, we will allow professionals to carry out this exercise so that it will be free from any political colouration," he said.
He added that the audit would cover the period from January 1, 2010 to June 1, 2015.