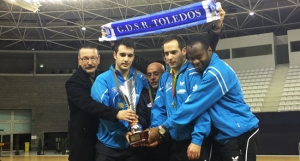 Nigeria's Aruna Quadri has once again shown his quality as a world class table tennis player when he assisted GD Toledos to retain this year's title of the Portuguese Cup in Porto.
Playing from the preliminary stage till the final day, Quadri supported by his Portuguese teammates showed class to record 3-0 win against Juncal in the semi-final.
But it was in the final match against fans' favourite, Sporting Lisbon that Quadri showed class. Despite dropping a game,t he Nigerian and his teammates stayed focused and ensured that the cup remained with GD Toledos.
They won 3-1 to win the title for the third consecutive time.
An excited Quadri believes the success will motivate him as he looks forward to the new week's Kuwait Open.
"I feel so great winning the title again and team work materialized in delivering the Portuguese Cup once again.
"I have won the title thrice in a row and retaining the title again has increased my confidence for Qatar and Kuwait Opens. I think this weekend matches in the Portuguese Cup has prepared for the next coming pro tours due to the fact that I played some tough matches," he confirmed.
Meanwhile, as a result of the defeat he suffered at the Africa Senior Championship to Egypt's Mohammed El-Beiali, Quadri dropped from 30 to 32 in the latest ITTF ranking while his conqueror improved in his rating from 195 to 179 in the world.
Also, for emerging as winner of the ITTF Africa Senior Championship, Egypt's Omar Assar is ranked 43; a position which exceeds his previous best of 57 in July 2013.
The Oyo State-born athlete admitted that the slide in his world rating would ensure he continues to work hard.
"My ranking going down is a wake-up call although I felt disappointed and at the same time I am happy that I gained more additional point to my ranking bonus points. It is a sign that I must work harder than before and I am finally happy that Africa is having two players in top 50 with Egypt's Omar Assar now rated 43," he said.
As the Kuwait Open, one of major series in the ITTF World Tours, serves off on Wednesday February 11; Quadri will be campaigning from the qualifiers as the world's top 16 will be competing from the main draw having been seeded by the organizers of the championship.