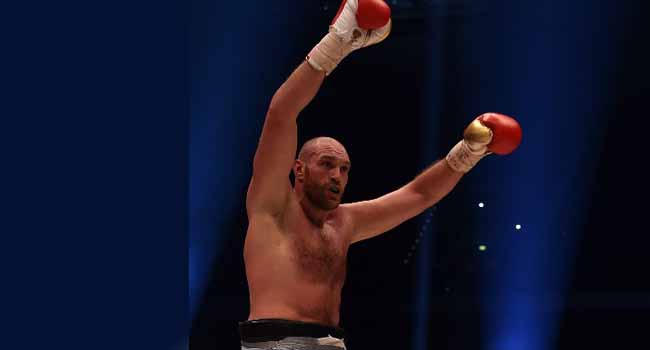 Former heavyweight world boxing champion Tyson Fury is to make his comeback for a first fight in two-and-a-half years in Manchester on June 9 with his opponent still to be named, promoter Frank Warren announced on Thursday.
The 29-year-old Briton — who has not fought since his shock win against Wladimir Klitschko in November 2015 to become the then undisputed heavyweight world champion — was cleared to fight again in December by UK Anti-Doping (UKAD) after accepting a backdated two-year ban for testing positive for the banned steroid Nandrolone.
"I can't wait to get in there and prove I am the best, even after all this time out," said Fury.
Fury and his cousin and fellow heavyweight Hughie Fury, 23, tested positive in February 2015. However, they were not charged by UKAD until June 2016, by which time Fury had beaten Klitschko.
Both fighters blamed the result on eating wild boar.
A rematch with Klitschko was scheduled for July 2016 but Fury postponed the fight, citing a sprained ankle, on the same day the UKAD charge was announced.
Fury also failed a test for cocaine in September 2016 and later admitted using the recreational drug to deal with depression related to his injury and UKAD problems.
He has previously laid down a challenge to compatriot Anthony Joshua, who unified the WBO, IBF and WBA titles against New Zealand's Joseph Parker in Cardiff last month.
However, Fury will have to wait for his shot at Joshua, who is targeting a blockbuster unification bout with fellow unbeaten world champion Deontay Wilder, who holds the WBC heavyweight belt.
Fury said he believes Wilder is "top of the pile" of the current crop of heavyweights but insisted "they're all very vulnerable and very beatable too".
Warren, though, believes Fury needs "three or four fights" before being ready to take on Joshua.
"He's going to be busy. He needs to get some rounds under his belt," Warren said.
"He needs to get himself fighting fit. He's fit but he needs to be fighting fit."
AFP