The former governor of Ekiti state, Mr Ayo Fayose, has been re-arraigned at Federal High Court in Ado Ekiti, the Ekiti state capital, by the Economic and Financial crimes commission (EFCC) for allegedly misappropriating N1.2 billion, while he was in office.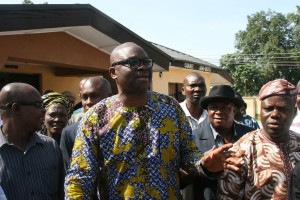 The former governor who has been standing trail over the misappropriation was arraigned for 27 count charges before Justice Adamu Hobon.
The presiding judge adjourned the case to January 24th 2013
During the court proceedings, journalists were prevented from entering d court by police officers until d intervention of State Police Public Relation Officer.