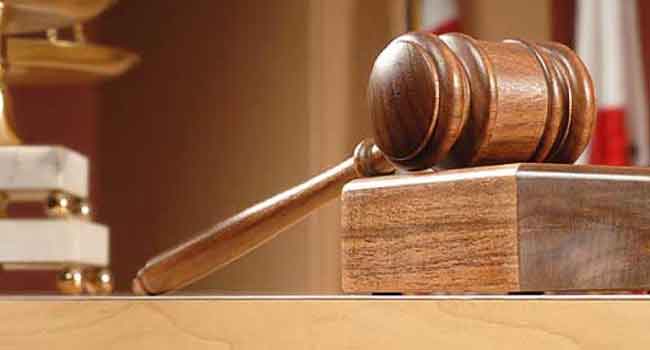 A Federal High Court sitting in Jos has given an order restraining the Independent National Electoral Commission (INEC) from excluding the Peoples Democratic Party (PDP) and its candidate from participating in the re-run election for the Langtang South constituency of Plateau State.
Justice Dorcas Agishi in her ruling on the motion exparte brought by the PDP, stated that the electoral body should include the plaintiff's name and logo on the ballot papers to be used in the re-run election scheduled for Saturday, February 20.
Sequel to the motion on the notice filed by the plaintiff in which the court was urged to grant the application and in the better interest of justice, the court asked the respondent to be put on notice to appear before it within 72 hours to state reasons why the interim injunction sought by the applicant, should not be granted.
At the resumed hearing on Tuesday, counsel to the plaintiff, Sam Oyewole, explained that both the motion on notice and the origination summons were served on the respondent even beyond the stipulated 72 hours, as ordered by the court.
The counsel argued further that since he had not been served of any process by the respondent; it implies that the plaintiff's application had not been contested by the respondent, hence the plaintiff should be granted the reliefs sought, as contained in the motion paper.
In his argument, counsel to INEC accepted that the respondent was served the order of the court, but made a plea for extension of time for which the respondent would show cause, why the interim injunction should not be granted.
He told the court that INEC office in Plateau worked hand in hand with the headquarters, which had made it apparently impossible to take decisions without adequate consultation from the headquarters.
Ruling on the matter, Justice Agishi observed that the respondent was not entitled to any indulgence since it could not file any affidavit or response on the earlier order issued by the court.
She therefore, submitted that the reason given by the respondent counsel was weak and that the action was deliberate to delay the suit and with no enough evidence to show cause not to grant the relief of the applicant.
Counsel to INEC told Channels Television that he would have to brief the National Headquarters on the ruling while the next step would be determined by the head office.
The substantive motion on notice for interlocutory injunction has been adjourned to Thursday, February 18, 2016.