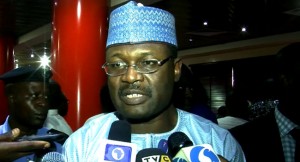 A Federal High Court in Abuja has ordered the Independent National Electoral Commission (INEC) and its Chairman, Prof Mahmood Yakubu to appear before it to answer to contempt proceedings pending against them.
Justice James Tsoho gave the order while ruling on arguments on whether or not the physical presence of INEC and its Chairman was necessary for the court to determine the contempt proceedings initiated against them by Ejike Oguebego and Chuks Okoye – Chairman and Legal Adviser of the Peoples Democratic Party (PDP), Anambra State.
The judge rejected the argument by INEC and Yakubu's lawyer, Mr Adegboyega Awomolo to the effect that the nature of the contempt proceedings against his clients was civil and could be determined without their physical presence.
Justice Tsoho said that whether civil or criminal, contempt proceedings were always quasi-criminal, which required the physical presence of the alleged contemnor in court for him or her to be heard on whether or not the order of committal should be made.
Justice Tsoho, who specifically directed the alleged contemnors to present themselves in court on Thursday, July 7, said that a bench warrant would be issued for their arrest should they refuse to be in court on the date fixed.
Oguebego and Okoye, who are suing for themselves and on behalf of other members of the Executive Committee of the PDP, Anambra State, are accusing INEC and Mahmood of allegedly refusing to obey the December 5, 2015 judgement of the Federal High Court, Abuja delivered by Justice Evoh Chukwu.