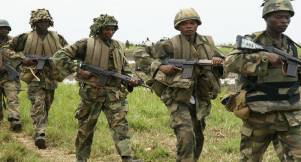 Troops of the 119 Task Force Battalion of 7 Brigade Nigerian Army, on Operation Lafiya Dole, have discovered graves of some Boko Haram terrorists, during mop up operations in Borno state.
Director Army Public Relations, Brigadier General Sani Kukasheka Usman, made the revelation in a statement on Monday.
According to the force, the bodies, buried in shallow graves, were that of terrorists who had escaped with gunshot wounds and died after an encounter on January 13, 2017.
Similarly, the troops recovered a 36 Hand Grenade and one 12.7 X 108mm round of ammunition concealed by the terrorists.
They have continued their patrols by dominating the general area of Baga, Kangarwa and Dogonchikun with a view to intercepting fleeing Boko Haram terrorists.