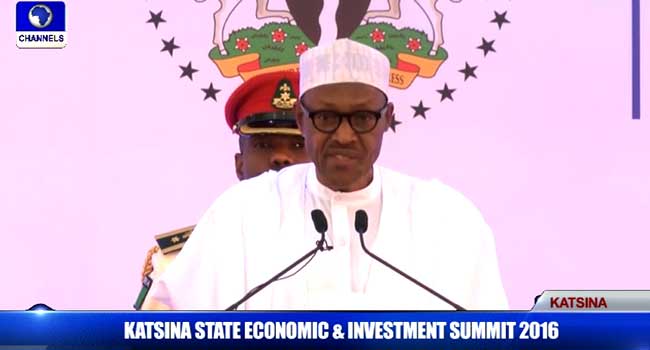 "To attract global investors, one must offer attractive incentives". These were the words of the President of Nigeria, Muhammadu Buhari, at the opening ceremony of the 2016 Katsina State Economic and Investment Summit, holding in the state capital, Katsina.
President Buhari commended the Katsina State Governor for taking the bold step towards building a more vibrant economy, assuring him that the effort would be rewarding in the end.
He also promised support to any state with laudable plans for economic growth as the Katsina State Governor unveiled his strategy to move the state forward.
The Governor, Aminu Masari had said in his welcome address that the essence of the event was to stimulate local investment and attract foreign direct investment to the manufacturing sector.
President Buhari acknowledged that this plan is capable of creating jobs as "employment is the quickest way to escape poverty" but "every player must do his best, including the federal government".
"For global players, some of whom I am pleased to see represented here to take the deep plunge, they must be offered attractive incentives.
"Liberal set of tax incentives, infrastructural support, faster and shorter government responses to business requests; these generous offers are the minimum required to attract critical investor who is quoted in every country and region of the world," he said.
President Buhari recalled his pre-election promise to end poverty by ending corruption, growing the economy and creating jobs in Nigeria.
"I hold myself to these promises. It is in this context that today's summit takes on an additional significance," he stated.
"The APC-led government of my home state has strongly embraced this vision by assembling the world to be part of this summit."